Welcome to our Patient Education page!
Our team of specialists and staff strive to improve the overall health of our patients by focusing on preventing, diagnosing and treating conditions associated with your digestive system. Please use the search field below to browse our website. You'll find a wide array of information about our office, your digestive health, and treatments available. If you have questions or need to schedule an appointment, contact our office.
---
Screening or Diagnostic Colonoscopy?
All colonoscopies, whether diagnostic or screening, are billed under the CPT/Procedure code 45378. The diagnosis or reason for the colonoscopy is what determines if the procedure is diagnostic/surveillance or preventative/screening.
Diagnostic/Surveillance Colonoscopy:
The patient has past and/or present gastrointestinal symptoms, polyps, GI disease, iron deficiency anemia and/or any other abnormal tests OR the patient is currently asymptomatic (no gastrointestinal symptoms either past or present) but has a personal history of GI disease, personal and/or family history of colon polyps and/or colon cancer. Patients in this category are required to undergo colonoscopy surveillance at shortened intervals (e.g. every 2-5 years).
Insurance plans process these claims subject to the individuals deductible and co-insurance requirements.
Preventative Screening Colonoscopy:
The patient is asymptomatic (no gastrointestinal symptoms either past or present), age 50 or greater, has no personal or family history of GI disease, colon polyps, and/or cancer. The patient has not undergone a colonoscopy within the last 10 years.
Insurance plans usually process these claims under the wellness benefit, payable at 100% if it is a benefit of the individual's health insurance plan.
Frequently asked questions:
Who will bill me?
You may receive bills for your procedure from the physician, the facility, anesthesia, pathologist and/or laboratory.
Can the physician change, add, or delete my diagnosis so that my procedure can be considered a preventative/wellness/routine screening?
NO! The patient encounter is documented as a medical record from the information you have provided, as well as what is obtained during our pre-procedure history and assessment. It is a binding legal document that cannot be changed to facilitate better insurance coverage.
What if my insurance company tells me that the doctor can change, add or delete a CPT or diagnosis code?
This happens a lot. Often the representative will tell the patient that if the "doctor had coded this as a screening, it would be paid at 100%." A member services representative should never suggest a physician alter a medical record for billing purposes.
---
Our Blog Posts
---
FAQS - Frequently Asked Questions
Q: How long will my procedure take?
A: Plan to spend 2- 2 1/2 hours with us from the time you arrive until when you are released to go home. The procedures themselves are relatively quick.
- An upper endoscopy takes 8-10 minutes, depending on what is found and the need for biopsies.
- A colonoscopy usually takes about 20-25 minutes, again depending on the findings and need for polyp removal, biopsies, etc.
The rest of your stay involves going over the consent prior to the procedure, a physical assessment, taking vital signs, placing an IV and attaching you to a continuous monitor. After the procedure, you will stay under our observation until you are deemed ready to be driven home.
Q: Can I drive myself home after the procedure?
A: No. The anesthesia and sedation we use, while relatively short-acting, can have subtle effects for hours after your procedure. Possible drowsiness and delayed reaction times make driving potentially dangerous. Therefore, having someone drive you home is necessary. You may drive and return to normal activities the following day.
Q: How soon can I eat and drink after my procedure?
A: Usually immediately after you leave the office, unless you are told otherwise. It is best to avoid heavy meals for that day.
Q: Can I take routine medications the day of the procedure?
A: Please do not take any of your medications except those for blood pressure, heart and seizures unless otherwise instructed by your physician.
Q: Do I need antibiotics prior to my procedure for an artificial joint?
A: No. The American Society for Gastrointestinal Endoscopy has concluded that antibiotic use for a patient with an artificial joint is not necessary.
Q: What happens if I begin to vomit during my prep?
A: Wait 1-2 hours to allow your stomach to settle. Start to drink the solution at a slower pace- every 20-30 minutes. This will take longer but should keep you from vomiting the rest of the solution.
Q: I have my period. Can I still have my colonoscopy?
A: Yes. This will not interfere with your procedure. You may use a tampon during the procedure.
Q: Do I have to drink all of my prep?
A: Yes. You want your colon completely cleaned out. This allows the physician to find and treat the smallest and flattest polyps.
Q: I'm diabetic. What precautions should I take?
A: If you are diabetic, we will give you special instructions. You will need to let us know ALL of your medications and doses. You should check your blood sugars periodically throughout the day of the prep and the procedure. Since you are on clear liquids, your blood sugar will tend to drop faster than normal. To avoid this, be sure to include some liquids with sugar.
Q: What if I forget to stop my blood thinners?
A: Please contact the office.
Q: Can I take over the counter medications with my prep?
A: Most over the counter medications are acceptable except fish oil, aspirin, Motrin, Advil, ibuprofen, Aleve, naprosyn, naproxen or iron supplements. Tylenol will not interfere with your procedure.
Q: Is it OK to drink alcohol?
A: NO! We strongly suggest that you avoid all alcohol before your procedure as it can cause dehydration and may thin your blood.
Q: Can I brush my teeth?
A: Yes.
Q: Can I chew gum or suck on hard candy?
A: Yes, but no red candy or candy with soft centers. Nothing after midnight.
Q: What can I take for a headache?
A: Tylenol or Extra-Strength Tylenol only.
This information was developed by the Publications Committee of the American Society for Gastrointestinal Endoscopy (ASGE). For more information about ASGE, visit www.asge.org.
This information is intended only to provide general guidance. It does not provide definitive medical advice. It is important that you consult your doctor about your specific condition.
What is a PEG?
PEG stands for percutaneous endoscopic gastrostomy, a procedure in which a flexible feeding tube is placed through the abdominal wall and into the stomach. PEG allows nutrition, fluids and/or medications to be put directly into the stomach, bypassing the mouth and esophagus. This brochure will give you a basic understanding of the procedure-how it is performed, how it can help, and what side effects you might experience.
How is the PEG performed?
Your doctor will use a lighted flexible tube called an endoscope to guide the creation of a small opening through the skin of the upper abdomen and directly into the stomach. This procedure allows the doctor to place and secure a feeding tube into the stomach.
Patients generally receive an intravenous sedative and local anesthesia, and an antibiotic is given by vein prior to the procedure. Patients can usually go home the day of the procedure or the next day.
Who can benefit from a PEG?
Patients who have difficulty swallowing, problems with their appetite or an inability to take adequate nutrition through the mouth can benefit from this procedure.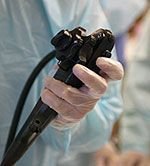 How should I care for the PEG tube?
A dressing will be placed on the PEG site following the procedure. This dressing is usually removed after one or two days. After that you should clean the site once a day with diluted soap and water and keep the site dry between cleansings. No special dressing or covering is needed.
How are feedings given? Can I still eat and drink?
Specialized liquid nutrition, as well as fluids, can be given through the PEG tube. If the PEG tube is placed because of swallowing difficulty (e.g., after a stroke), there will still be restrictions on oral intake. Although a few PEG patients may continue to eat or drink after the procedure, this is a very important issue to discuss with your physician.
Are there complications from PEG placement?
Complications can occur with the PEG placement. Possible complications include pain at the PEG site, leakage of stomach contents around the tube site and dislodgment or malfunction of the tube. Possible complications include infection of the PEG site, aspiration (inhalation of stomach contents into the lungs), bleeding and perforation (an unwanted hole in the bowel wall). Your doctor can describe symptoms to watch for that could indicate a possible complication.
How long do these tubes last? How are they removed?
PEG tubes can last for months or years. However, because they can break down or become clogged over extended periods of time, they might need to be replaced. Your doctor can easily remove or replace a tube without sedatives or anesthesia, although your doctor might opt to use sedation and endoscopy in some cases. Your doctor will remove the tube using firm traction and will either insert a new tube or let the opening close if no replacement is needed. PEG sites close quickly once the tube is removed, so accidental dislodgment requires immediate attention.